This interview is the second in our series, Their Story. For the first blog post in the series, see here. Today's story is from the Crawfords, who recently built a new home in Omaha.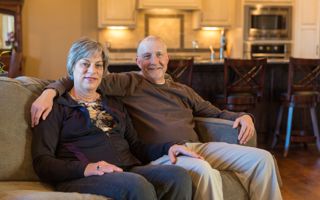 Why did you decide to build a new home as opposed to existing?

We found the west Omaha area fit our lifestyle very well. Once that was determined there is so much building going on that the selection of price, quality, style and location of new is quite wide. While new can cost more per square foot there is no extra cost of remodeling or repair that is needed.

How did you choose your home builder?
We had the opportunity to take a great deal of time shopping the area. I can't even begin to guess how many houses we saw so we felt we knew the market quite well. We settled on
Royal Homes
for a number of reasons. Quality of materials and workmanship were high on the list. The people who built the house all seemed proud of and conscientious about their work. Most were frequently employed by Royal. The overall designs were practical and user friendly. The houses were tastefully designed with quality details everywhere. Of the many houses we saw around the area there were many that were very eye-catching and impressive on the first visit but the closer we looked little flaws became evident. With Royal it was the opposite, the closer we looked the better it looked. That was the difference maker. Finally it is worth mentioning that after we bought the house the accessibility and prompt followup on any question or issue that arose was and is outstanding.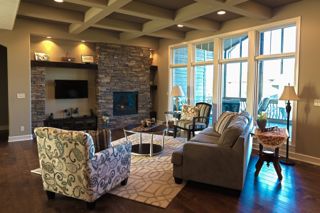 What did you enjoy about the process? Why?
We enjoyed sorting through the wide variety of styles, locations and costs to determine exactly what we wanted.


What was a challenge you encountered and how did you work through it?

Jane and I first had to make sure we were both looking for exactly the same thing before we got serious. We couldn't find the right place unless we knew what it should look like. Keeping the emotion out of the process to make sure we didn't stray from our objective was also a challenge. To help with this we had a firm list of must haves and a secondary list of likes.


What advice would you give to someone considering building a new home in Omaha?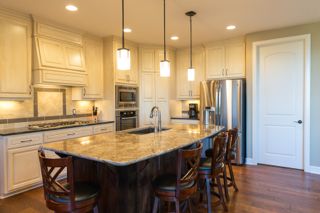 Start the process by looking at areas, designs, builders etc. on your own before contacting a realtor. I think that best assures knowing the whole landscape of what is available before getting specific. Then find a realtor that is knowledgeable and represents a quality firm to zero in on the right place.